Back To Blog
[COVID-19 FAQ] How to Use govMeetings With Video Conferencing Software
Between shelter-in-place warnings and social distancing, local government agencies are opting for live streaming public meetings. To help, we re-engineered our eComment public participation software to accept live feedback during a meeting.
But you're still facing a challenge: How do you run public meetings when officials join from home?
Don't stress. You can use govMeetings software with video conferencing software — such as Cisco Webex, GoToMeeting, or any other similar solution — to create a completely virtual meeting environment. Here's how.
Disclaimer: Please work with your IT department to determine which video conferencing solution is best for your needs and to ensure proper configuration. This article is designed to provide high-level guidance only, and technical expertise is required.
How to Run Public Meetings Remotely
To create a stable virtual meeting experience for citizens and officials, simply run your video conferencing solution through govMeetings. You'll be able to pair the distributed capabilities of teleconferencing with the purpose-built architecture of meeting management software.
Set up a PC in chambers, and connect the A/V output to your Granicus encoder inputs.* This is a typical setup for remote presentations.
Open your teleconferencing solution on the PC, and join the session with remote staff and officials.
Start LiveManager and load the correct meeting date.
In LiveManager, start the live stream and recording.
*Consult with your IT staff regarding your audio/visual configuration. If you need further assistance with your Granicus streaming solution, contact Granicus support.
The public can now view your teleconferenced meeting through govMeetings live video streaming while the meeting is recorded for public archive. Check out our dedicated support page for in-depth directions or if you have product-specific capabilities for managing remote work with govMeetings software.
Examples of Remote Public Meetings
Oak Park, Illinois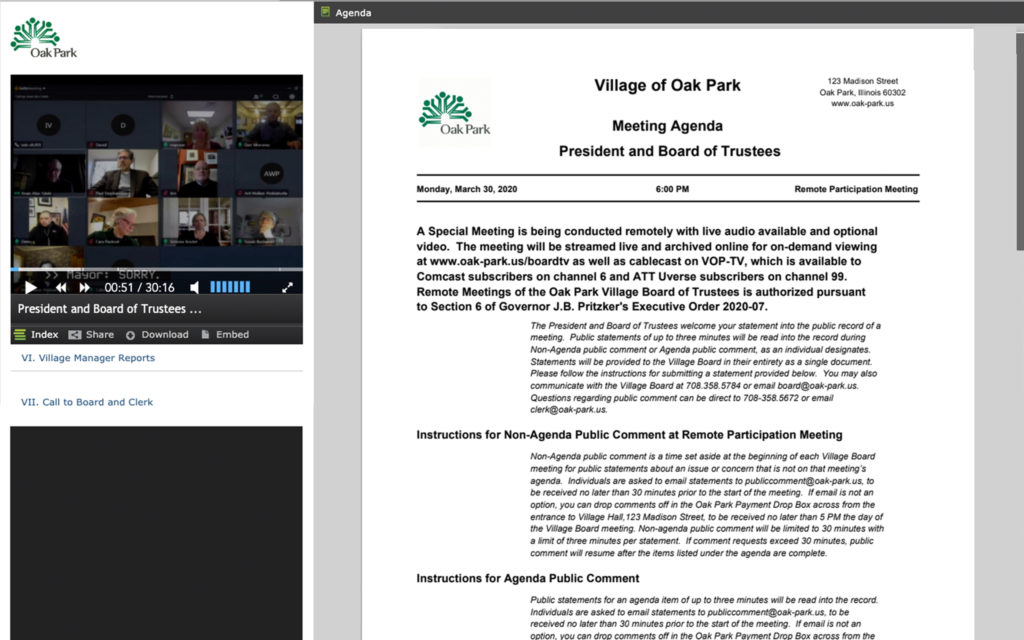 Oak Park uses GoToMeeting with Granicus govMeetings Video and Legistar.
Milwaukee, Wisconsin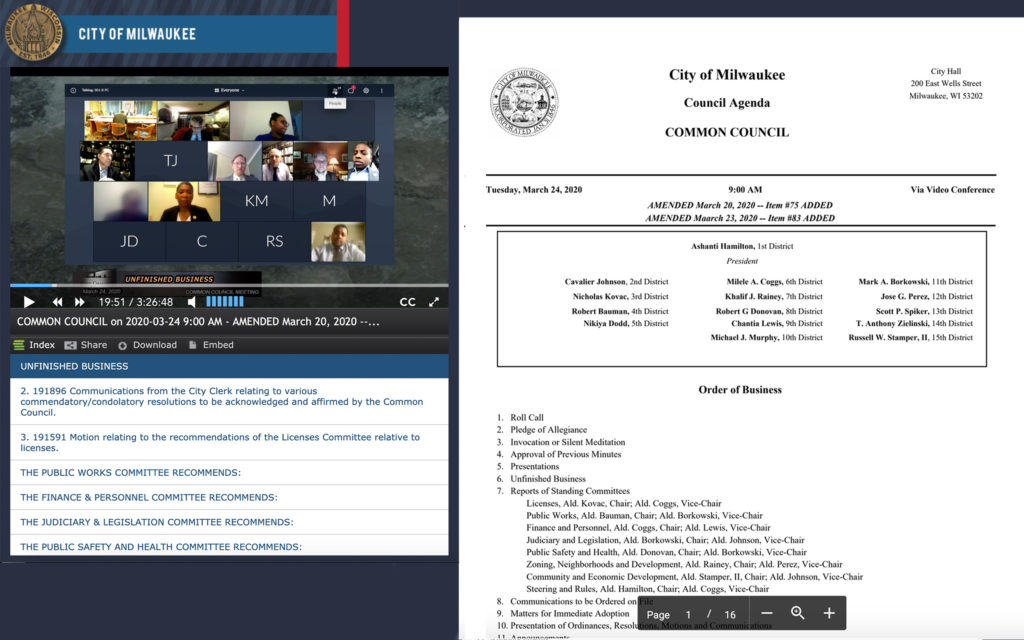 Milwaukee uses Microsoft Teams with Granicus govMeetings Video, Legistar, and Meeting Efficiency.
Fullerton, California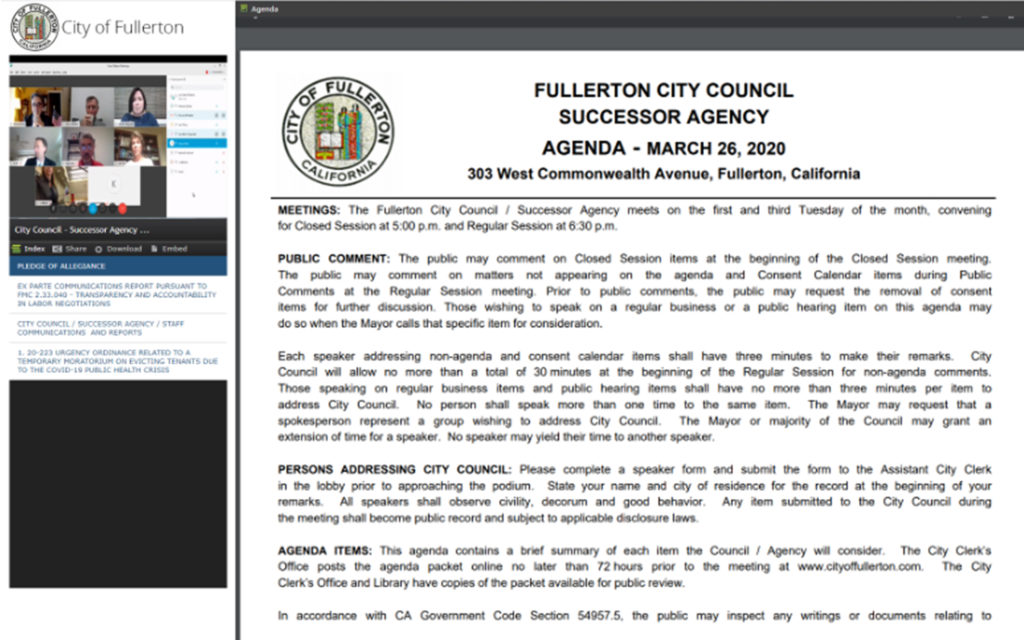 Fullerton uses Cisco Webex with Granicus govMeetings Video, Legistar, and Meeting Efficiency.
COVID-19 & Public Meetings: Need More Help?
For more best practices around remote meetings, check out these resources.
govCommunity, an online environment where govs across the world can connect with one another, ask questions, and share examples. Join here.
We at Granicus are committed to improving the remote management of your in-meeting processes, and we'll communicate these best practices as they develop.
Want to Learn About govMeetings?
Speak with someone directly about how to transition your meetings online. Contact Us >>