Back To Blog
COVID-19 Email Highlight of the Week #4
There are two frontlines in the pandemic. One is fought by the nation's brave health care workers. The other is a digital battle against misinformation fought by the nation's public communicators. In this regular post, we share a notable public sector communication connecting public audiences to critical information. See last week's highlighted email.
Once again, this week's coronavirus-related bulletins are still performing well above average when compared to the data in our latest Civic Engagement Benchmark Report. This week's bulletins had an average open rate of 65% and a click-through rate of 32%.
Featured Email
This week we are featuring a bulletin sent by Culver City, California, as part of a citywide newsletter. A banner with trusted branding leads into a quick intro that offers accessibility by encouraging Spanish speakers to visit a web page with the same information in Spanish.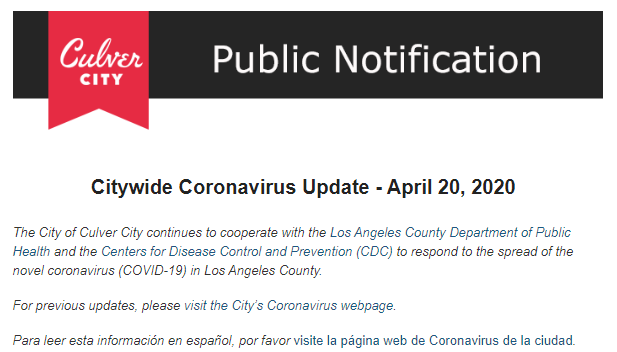 Culver City's email divides information into short blocks of text. A table of contents provides an overview of included information. Readers can easily scroll to sections that interest them.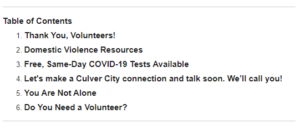 The email bulletin also provides a section for COVID-19 testing with step-by-step instructions and an engaging graphic.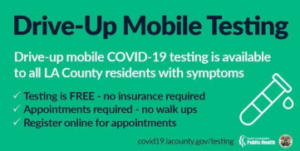 Lastly, this email succeeds as a result of its caring tone, which is made clear in the language it uses to invite residents to take part in Culver City's weekly phone call program. Residents can sign up to receive a check-in call from City staff, just to say hello.

Get Started With govDelivery
Get up and running quickly with govDelivery, the most-trusted communications platform for government.  Learn about special offer >> 
More Helpful Resources