Back To Blog
What is Web Accessibility?
Web accessibility compliance has changed dramatically in recent years, and now local government agencies must ensure that their websites are compliant with the latest accessibility laws as of January 18, 2018.
Simply put, there are no more excuses – such as "the law only applies to federal agencies" or "I can just wait until the Department of Justice comes after me".
What exactly is Web Accessibility?
Web accessibility means that people with disabilities (i.e. those who are visually-impaired) can easily access and use your website.
People come to local government websites to complete online tasks – such as finding community information, paying utility bills, and applying for a permit. Having an accessible website makes the content on it easy for all visitors to interact with, understand, and navigate.
While it may be easy to create accessible content for your website, it can often be difficult to continue to create and maintain it if staff members are not properly trained in doing so.
How Accessible Do I Have to Be?
Thinking about how to reach proper web accessibility as a pyramid can help you focus your efforts.
At the bottom of the pyramid is meeting the minimum requirements to ensure that you're legally protected. While legal risks are reduced, they're never fully eliminated.
The next level helps to ensure that your website content is written in plain language so that it's easy to understand. While you may understand the structure and language of your agency, your residents, visitors, and business people may not.
Finally, the top of the pyramid focuses on content strategy and user experience (UX). In addition to writing content in plain language, it's important to think about how people use your website. User experience testing provides insights and analytics to help you determine what your website visitors request the most, allowing you to structure your content to help guide visitors to the information they seek. Having a mobile-friendly site will eventually become part of the minimum requirements necessary to maintain an accessible website.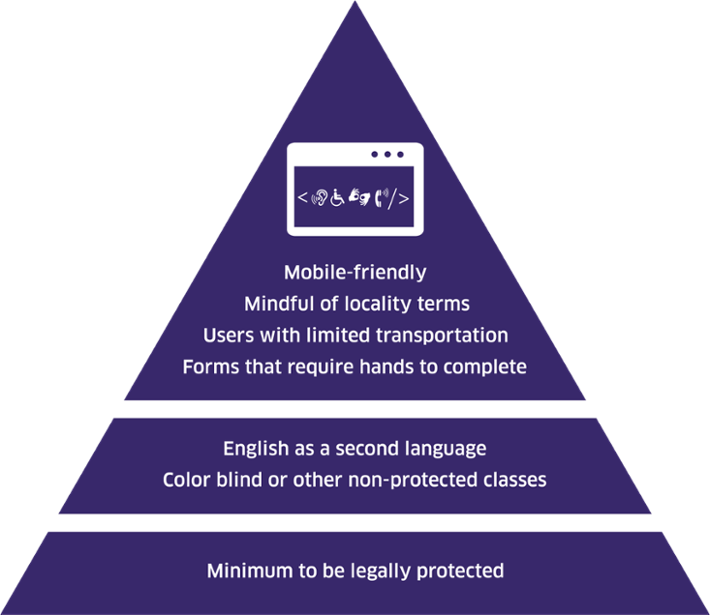 How Can You Get Started?
It's important to think about to whom your website is accessible and at which levels. Consider documenting this in your agency's accessibility policy to give your employees a guide to properly implementing web accessibility standards on a continuous basis. Having these guidelines in place will allow your agency to create and maintain accessible website content.
Interested in learning more about how to make your website more accessible? Contact us today for more information about website accessibility, request an accessibility assessment, and pave the road for a more accessible website.