Back To Blog
Website Templates Create Better Digital Experiences
How the new govAccess Template Library helps engage residents
Time and resources are two things that almost every government agency has in short supply. That's why an organization's website serves as a vital touchpoint for serving resident needs in a timely and efficient manner. The most successful online experiences come from well-designed, action-oriented website templates.
If residents can find what they need online, they won't have to call a staff member or take a trip to the office.
And while many agencies might understand the need for creating efficient digital government for their residents, not all department contributors have the design skills or tools to develop compelling webpages.
That's why Granicus has created the Template Library for govAccess. This collection of webpage templates helps staff at all skill levels quickly and effectively create website pages that meet residents' demands.
Templates make it easy for citizens to find the information they need and complete all their government-related tasks, relieving staff of phone calls and email requests for assistance.
The new Template Library does more than offer new ways to refresh your website's content. Whether it's a COVID dashboard, vaccine sign ups, or election information, agencies can look to the govAccess Template Library to offer effective and timely designs that meet immediate needs. The govAccess design team adds templates to the site in real time, allowing agencies to quickly add pages to websites and get information to residents right away.
What Changed?
When building this feature, the Granicus team saw the opportunity to address two common pain points agencies face:
Page template sprawl that makes it hard to find the right template
Automatic template naming that doesn't provide a clear idea of the template's purpose
These two improvements in the "Page Create Wizard" will be front and center when the Template Library update launches. Staff with limited time and design experience can select templates within the Template Library to easily create sleek and user-friendly website pages for their residents. And access points on the templates seamlessly connect with other Granicus products (govMeetings, govService, and govDelivery), unifying the experience for your customers and simplifying back-office management.
What to Expect
Three new features stand out in this update:
Library of pre-designed page templates, optimized for the most common and high-traffic government website pages (note: this is limited to Granicus-hosted clients only)
Updated workflow to create pages, to make it easier to view and select what page template you'd like to use for your page
Top Account Templates feature, to give a filtered view of page templates to only those you want your website contributors to use
When creating a page, identifying a content group is now in its own step. The selected content group will present a related selection of applicable templates, based on the CMS configurations.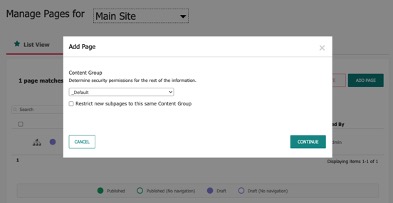 Once the content group is selected, select the template from the new "Template Selection" view. Available options will include "Template Library," "Top Account Templates," or "All Account Templates." Each CMS admin can also configure which list of templates to show as a default by using the star function (similar to the "Manage Pages: List and Tree Views").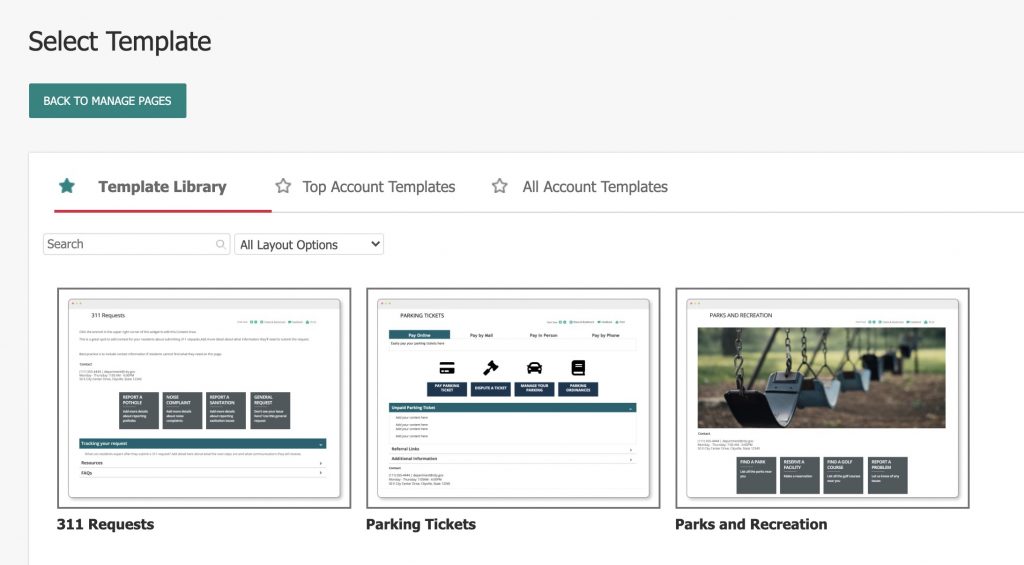 The new "Updated Page Details" view keeps all sections in tabs above the fold rather than presenting information in a scrolling accordion-style view. All functions on this page will remain the same aside from this design change.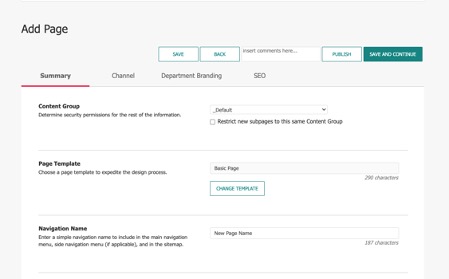 Users will have the ability to more easily name new page templates without impacting previous templates. When a page template is changed, a new version will be created with a lightbox alerting the user of the new template creation and allowing them to enter the new template's name and description. Users with the correct permissions can also mark this as a Top Account Template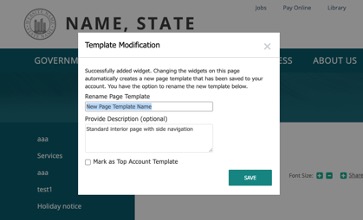 Watch for New Features Soon
govAccess users can anticipate the launch of the new Template Library and changes to the template design experience in mid-August 2021. These changes will automatically appear in govAccess, but customers can count on the Granicus team to provide continued support and communication to help get the most out of these new features.
New to govAccess and want to know more about how our government website solution can best serve you? Visit govAccess to learn more.