Back To Blog
Paradigm-Shifting Tips to Elevate Your CX Strategy
Changing your name, moving to a new state, buying a house, and starting a business are just a few examples of the many stressful life events that require us to interact with government services. Far too often, those interactions are frustrating, time-consuming, confusing, and saddled with paperwork.
Why is that?
Well… most government entities haven't made the operational connection between adequate communications and service delivery. Angy Peterson, vice president of the Granicus Experience Group (GXG) and Charlotte Lee, GXG's strategic lead for customer experience (CX) and innovation, offered paradigm-shifting tips to elevate your customer experience strategy in a recent webinar. Here's a recap:
Since the Biden Administration's CX executive order, there's been a heightened focus on making improvements in this area. But how can we make this lofty goal more practical and operational? Simply answered: better communication. Communications are a core component of CX — inextricably woven into an effective, actionable strategy.
Customer Experience Lifecycle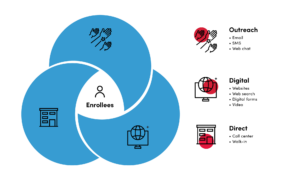 The Power of the Engaged Subscriber
While the focus of a better CX strategy is to improve the resident experience, better CX helps units of government too. When agencies invest in CX, there's a tangible return on that investment. Engaged, informed residents offer tangible, operational benefits like fewer calls, less walk-in traffic, and better overall compliance — lifting the burden placed on the shoulders of government workers. There's a much easier way to get your constituents to engage with your services when and how you intended.
De-risk service delivery. Proper, proactive communication can drive experiences. It can be risky to spend money on modernization without the certainty of adoption. But you can mitigate that risk through two-way SMS, email, and survey communications to collect feedback and insights to inform the purchase of products and services before an investment is made, which removes the risk of service delivery.
Manage expectations. Provide status updates on things like claims or application processes with personalized, action-triggered messaging to help alleviate call center and walk-in volume.
Drive service adoption. Break down your audiences into micro-segments based on need, demographics, and behavior with intentional data-capture. When you have smaller, more targeted groups (within your overall audience) you can communicate with them in more meaningful ways.
Build trust. Slowly, but surely — through transparent, personalized micro-moments — begin to restore trust. Use the data you collect to co-create solutions that anticipate community and employee needs, then deliver solutions.
The measure of success in CX is trust. Trust is built with transparency. And transparency — within the context of CX — is a series of helpful, meaningful communications provided at the right time, using the right channel.
Subscriber engagement means having a direct connection to your residents, which means you can guide them to take the actions you want them to take. GXG helped the U.S. Department of Labor's HIRE Vets Medallion Program by segmenting their outreach to guide veterans through their digital application process. The program saw a 127% increase in applications and a 58% increase in revenue.
The Power of the "Opt-In"
We've all been affected by the Amazonification of service delivery in our private lives. Essentially, that philosophy should be applied to the public sector; proactive messaging that alerts residents of what they should do and when.
Many government agencies rely on antiquated call centers and in-person, paper-based service delivery that places a high burden on government staff and individual residents. Others have graduated to include email and SMS messaging as an add-on to their service offering. And sadly, most units of government stopped their digital maturity there — short of creating a comprehensive, cohesive, customer-first strategy that guides constituents to relevant, on-demand services based on a data-driven understanding of their needs.
It all starts with growing your subscriber base, and actively capturing various forms of contact information, depending on their preference. After you've grown your subscriber base, the next powerful step is segmentation. Using tools like topic and overlay optimizations on your website, residents can sign-up to receive information on subjects they're interested in based on a specific program or your agency's overall priorities. This segmentation broadens your understanding of who they are while also dividing your audience into smaller groups so you can refine your messaging and who you send those messages to.
Unified, opt-in data capture and personalized experiences can reduce (or remove) the burden on the customer in a way that is inclusive and equitable. Without having to untangle a complicated web of website pages and forms, residents can be guided to the right place at the right time — through the channels they prefer. The ultimate goal, however, is inter-agency interaction, where multiple entities integrate experiences and journeys, limiting confusion and boosting customer confidence (and trust). Prescriptive, personalized messaging guides constituents through complex processes and timing across units of government, further reducing customer burden while expanding measurable diversity, equity, inclusion, and accessibility (DEI &A) efforts.
"This focus on customer experience will not only improve the delivery, efficiency, security, and effectiveness of our government programs, it will advance equity and enhance everyday interactions with public services and uplift the lives of those who need it the most." — President Joe Biden, the Biden-Harris Management Agenda Vision
When all of your communications are sent to one contact list in one newsletter, it can feel overwhelming to the customer. Those long-scroll, densely-packed newsletters with a broad, diverse mix of subjects don't drive action. They are more likely to insight feelings of anxiety and confusion.
The key is to make sure you approach your communications from the prospective of the end- user. Start with a welcome campaign. Create a series to introduce all new subscribers to all that your agency has to offer in rich content, resources, and information. Then, start to ask them questions to get a sense of what they are interested in. With this type of segmentation, your messages are less frequent and more targeted, applicable, relevant, and personalized.
GXG also partnered with the Indiana Family and Social Services Administration (FSSA) to help them upgrade from paper-based communications like post cards and letters to intuitive, text-based messages. Many of their customers were highly mobile, lower-income families in need of the early childhood development programs they provide. After increasing their subscriber base by more than 10,000 people a month, the FSSA was poised to better assist their customers during the height of COVID. Many of their customers, who were first responders, were able to receive clear, proactive messages about available childcare services the FSSA provides.
The Power of the Granicus Experience Network
In the private sector, commercial businesses purchase contact lists or invest in paid media and advertising to grow their subscriber base. The Granicus Subscriber Network, however, is a conglomerate of 300 million global residents, supporting over 6,000 government agencies like yours. This network was built as a core capability within our platform to help agencies grow their subscriber base. We intentionally built a (free) global network to foster an open spirit of collaboration between government agencies that share the mission to better serve and communicate with the public. Our network is unique and priceless because it provides easy access to a large group of people who have expressed an interest in government services.
This network is helping us realize the goal of inter-agency communication. The inherently open and collaborative nature of the network allows us to use the data we have collected to promote relevant services and agencies to deliver ultra-personalized, applicable information to residents. We can accomplish this because we have the data and an intimacy with our tools that large system integrators cannot provide.
If you would like to learn more about how to elevate your CX strategy, watch this free webinar now.