Back To Blog
Responding to COVID-19, This State Agency Quickly Launched a Popular Digital Service
As many government agencies shut their office doors in response to the coronavirus pandemic, some are opening portals — online portals — for residents to request and receive government services while limiting the spread of COVID-19.
The Oklahoma Department of Public Safety (DPS) is one of those responsive agencies.
The DPS announced that Oklahoma residents can now renew or replace their Class-D driver's licenses and identification cards online with help from Granicus govService technology.
Digitizing 60,000 Monthly Transactions
Staff estimate 60,000 transactions a month that previously occurred in person can now occur online. Residents don't have to expose themselves by leaving the house, and staff remain at a lower risk as well, only handling transactions that must be completed in person by appointment only.
"This latest digital service is an additional step we can take during this unprecedented time to help prevent the spread of COVID-19 and give our customers the option to complete transactions from the comfort of their home," said DPS Commissioner John Scully.
To launch the new service, staff at the DPS worked closely with Oklahoma's Office of Management Enterprise Services and the Granicus team.
"We were notified of a need and immediately jumped into action," said Rachel Keen, Granicus project manager. "The initial build took only 24 hours and, in less than a week of going live, DPS processed over 1,200 applications."
Keen says that the Granicus team is currently adding an online reinstatement option as well as a CDL renewal option for truck drivers to keep critical delivery services open. These options would account for nearly 7,000 more monthly renewals.
How the New Digital Service Works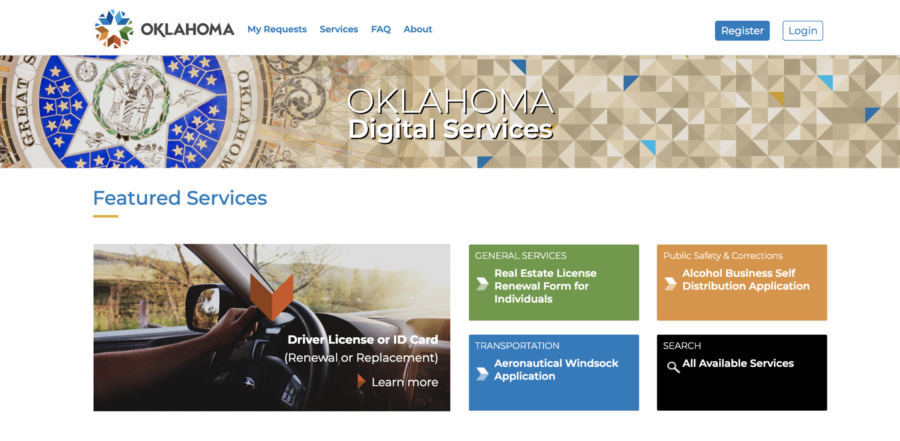 When an eligible resident needs to renew or replace their Class D license or identification card, they simply create a govService account and log in, fill out the related form, and submit their request. govService allows users to pay online by credit card or to mail a check. The DPS will send the new driver license or identification card by mail. The transaction is contactless.
The new driver's license renewal service is one of dozens of digital services that Granicus is helping the State of Oklahoma launch.
Bringing It All Together
Government agencies are seeking ways to continue daily operations amid the chaos of COVID-19. Increasingly, that response is digital. By streamlining service delivery, improving access, and decreasing in-person interactions, the State of Oklahoma is not only improving service, but making it safer.  
Want to Learn More About govService?
Contact Granicus experts today to learn how you can bring smart digital services to your agency —  from a single trusted partner. See it live >>