Back To Blog
Make a Great First Impression With These Welcome Message Ideas
One of the most important aspects of any govDelivery account is setting up a strong welcome message to capture an audience's attention right away. As the first email that your new subscriber will receive from you, the welcome message is your first opportunity to present your organization in a positive light. Your welcome message is also your first chance at ensuring your new subscriber feels at home in their account.
Here are three tried and true welcome messages that you can adopt to make sure your new subscriber relationship is off to a great start:
The County of San Mateo in California uses this welcome message with a strong, positive language. Using words like "convenient" are good reminders to your subscriber that this process is set up with them in mind, and is also a good opportunity to remind subscribers that they can manage their own settings and preferences along the way.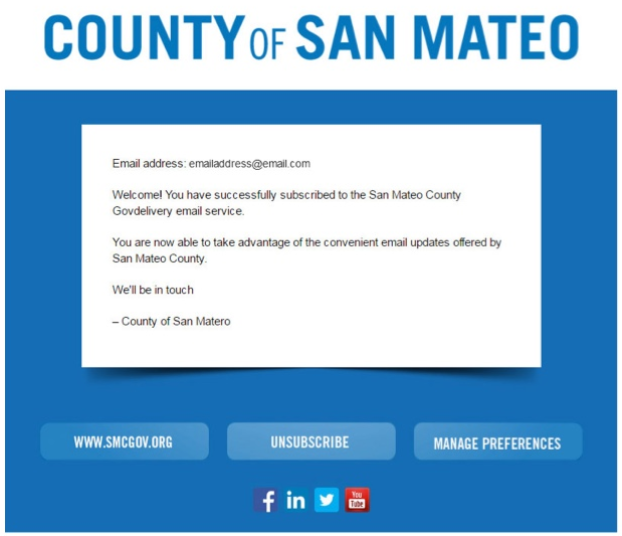 This welcome message for the Inter-American Foundation, an independent agency dedicated to improving quality of life around the globe, immediately connects with its audience of subscribers. The graphic of the envelope catches your eye, and also provides an opportunity to connect with the organization on social media.

This welcome message from Minnesota's IT Services uses their branding colors in their design, and also uses a strong call to action for subscribers to manage their preferences. Whenever possible – but especially in welcome messages – it's a good idea to remind subscribers that they are opting in to receive information from you, and that they can update their preferences on what to receive at any time.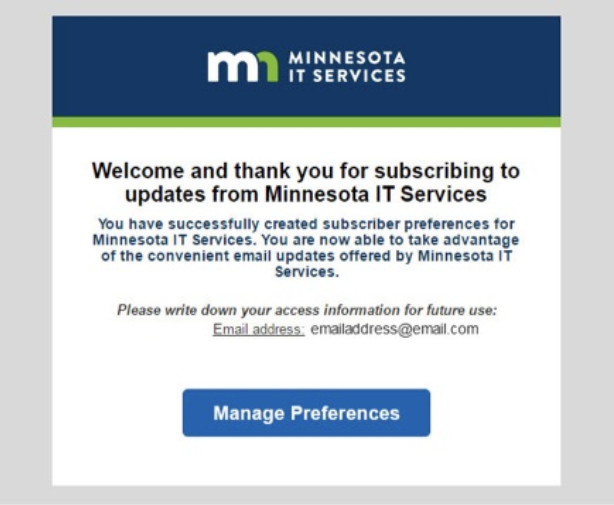 What are the primary components of a successful welcome message?
They align with the rest of your branding and flow with the rest of your communications.
They use plain language to make clear what the subscriber has signed up for.
They drive the subscriber to their account, where they can take control of their account.
Want to try something more advanced?
Try a pre-build campaign with Advanced Package for govDelivery. This feature allows you to more precisely control the timing of the welcome message sending, as well as re-engaging sleepy subscribers or existing audience members with ease.
For more information on the Advanced Package please reach out to us today!