Back To Blog
Gov Communicators Need to Connect With Isolated Residents, Say Researchers
More and more Americans are in voluntary self-isolation, practicing recommended social distancing guidelines in response to the COVID-19 pandemic. Unfortunately, many people in isolation — especially quarantine — experience significant stress.
In a recent report published in international medical journal The Lancet, researchers sifted through 3,166 published papers and found overwhelming evidence of negative psychological effects of isolation, including post-traumatic stress symptoms, confusion, and anger.
Government agencies should proactively engage with quarantined and voluntarily isolated residents, reassuring them that they are not forgotten. In The Lancet report, researchers recommended several ways to mitigate the negative consequences of quarantine, including three of particular relevance to government communicators:
Give people as much information as possible.
Residents in quarantine are probably afraid. Ease their concerns by providing as much accurate information as possible.
Effective and rapid communication is key.
Engage residents regularly. Researchers suggested creating an online service specifically designed for those in quarantine to provide instructions about what to do in the event of illness. Such a solution could help reassure people that they'll be cared for if they become ill, according to the research.
Altruism is better than compulsion.
Find ways to communicate how social distancing benefits the whole community. Researchers also recommend reinforcing how self-isolation helps to keep others safe, particularly vulnerable populations.
One Answer? Text Messaging to Key Populations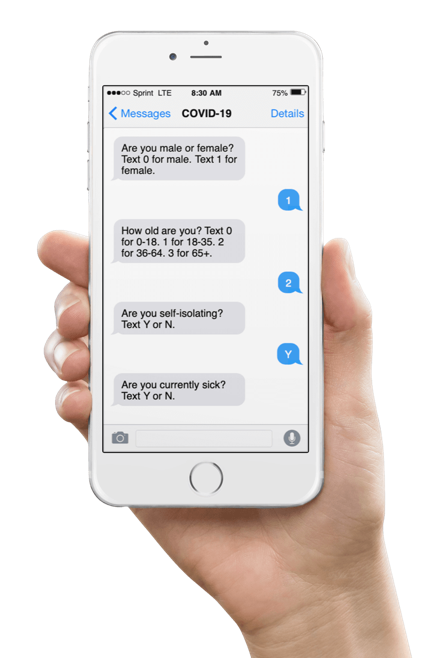 An example of an interactive text sequence with the goal of collecting data from those who've tested positive for COVID-19 and are in quarantine.
The COVID-19 pandemic presents several specific communications challenges.
Challenge #1: The spread of misinformation. COVID-19 is the first pandemic in this era of social media full of campaigns intentionally designed to mislead and misinform. The isolating public needs frequent, accurate communications directly from trusted sources to prevent fear and provide guidance.
Challenge #2: Scale and reach. Radio, print and TV often miss key populations, including young people and the socially disadvantaged. Make the public's preferred channels — SMS and email — your new primary channels for outreach.
Challenge #3: Encouraging positive behaviors. Provide targeted information to key populations. Through segmentation and tailored messaging, encourage specific residents to take a specific desired action or follow a preferred behavior.
Challenge #4: Active disease surveillance and contact tracing. Actively monitor COVID-19 spread among isolated populations through regular interactive surveys or online forms designed to collect and share critical information. While you can and should communicate through a variety of channels, text messaging tools can help public health officials and other government communicators address these challenges. You can send daily, automated messages to share information with — and collect data from — targeted populations, including isolated individuals.
5 Benefits of Text Messaging Solutions
Whether you're sending daily, automated COVID-19 updates to those who opt-in or you're trying to alleviate call center volume, text messaging solutions offer a range of benefits.
1. Better engagement.
Text messaging achieves a higher response rate because residents can respond on their time. You're more likely to receive a response when you provide a convenient and simple way to communicate.
2. Richer communications.
With text messaging, you can share information or links on demand. It's much easier to refer your community to another form or source of information when you can provide a direct link.
3. Automated dialog.
No need to rely solely on staffing a call center. An automated dialogue can route many people to the information they need without dedicating limited resources to routing phone calls.
4. Visual insights.
With a text messaging solution, you can export data to CSV files or via developer API. Responses can be compiled in simple graphs and charts that provide digestible insight to stakeholders and can help inform the public about what is happening in your community. Use graphs to determine where there may be gaps in communication and resources.
5. Inclusivity.
With multilingual options available, you can communicate more effectively with non-English speakers. Text message is also a great way to communicate with those that are deaf or hard of hearing.
Bringing It All Together
This is a challenging time for our communities. The right communication can ease residents' concerns, provide facts, and gather critical information. Text messaging is an effective solution for targeted communications with key populations.
Want to learn more about text messaging strategies?
The Granicus Experience Group is committed to helping government agencies build better citizen experiences. Schedule time to learn about our digital services >>