Back To Blog
15 of the Best Government Website Designs in 2020
In 2021, a government website will need to be mobile-friendly, easy to navigate, and ADA-accessible.
Aside from that, what should it look like?
To help you understand the best government website designs in 2020, we gathered examples of government websites sorted by the high-level goals they serve.
Because a great government website design can help you:
Streamline service delivery for residents.
Improve public perception through better branding.
Boost community engagement as efficiently as possible.
Meet the unique needs of your agency.
Government Website Designs That Streamline Service Delivery
Residents visit government websites to get things done. Go for a service-oriented site if you want to:
Limit in-person walk-ins.
Reduce inbound phone calls.
Meet modern expectations for online experiences.
Interested in adding services to your website? Explore govService >>
City of Kansas City
The City of Kansas City, Missouri, wanted to put their website visitors front and center. To do that, their website prioritizes city services while positioning the city as modern and forward-thinking.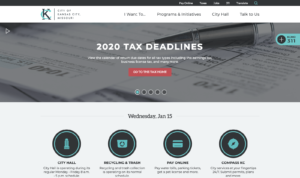 Behind the Website Design
The uncluttered website design quickly connects visitors to popular services (pay a fine, for example).
A dedicated search form, called Resource Lookup, lets residents enter their address for personalized service information.
The easy-to-find 311 tab in the corner of the page helps residents report problems and more.
Insight
Prioritizing services turns a website into a 24/7 tool for residents and visitors. It's also a time-saving tool for staff who receive fewer emails and phone calls for basic information and services.
City of San Jose
The City of San Jose, California, wanted a website that was both as innovative as the community and as customer-oriented as the city leaders and staff that serves them.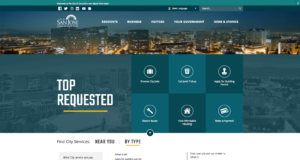 Behind the Design
Top requested services are clear and easy to find.
A dedicated service finder helps visitors explore by type and location.
Still can't find it? Visitors can keystroke the service that's on their mind in a dedicated search bar.
Insight
Everyone navigates a website differently. That's why it's important to have user testing as part of your website design process — to make sure the website is intuitive to all.
Township of Abington
In Abington Township, Pennsylvania, the team wanted to cater to the user experience by focusing on the presentation of services and information.
Behind the Design
A hamburger menu (top left corner) provides constant, mobile-friendly access to top services.
An address lookup connects residents to relevant location-centric information (utiliites, waste pickup day, etc.)
Internal pages for city departments also include quick access to department services.
Insight
A hamburger menu condenses the traditional top navigation and can make navigating on a mobile device much easier.
City of Amarillo
In Amarillo, Texas, the team wanted to turn their website into a digital extension of the service the city provides and make it a place where residents can get things done quickly and easily.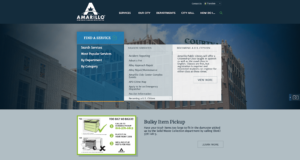 Behind the Design
A contemporary homepage design puts services front and center.
The gradient on the homepage image serves as a spotlight on services.
"Find a Service" button on the homepage expands for quick navigation into services.
Insight
Require too many clicks and residents can get lost, frustrated, and give up. By bringing services quickly to people's fingertips, like Amarillo does, you can give users a better experience and reduce phone calls and emails.
Government Website Designs for Better Public Perception
Not just a consideration for big companies, a professional brand goes a long way in improving the perception of municipal departments and organizations. Concerted branding, always a website consideration, helps you:
Improve economic development.
Attract more job applications from top talent.
Pflugerville Police Department
The website for the Pflugerville Police Department in Texas highlights their professional, approachable, and transparent approach to law enforcement.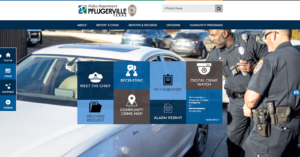 Behind the Design
A welcoming homepage positions the department as positive and professional.
Photography shows police staff that are smiling and active in the community.
By adding a silent "p" to words beginning with an "f", just like the name of their city, they instantly lighten the mood.
Insight
Gather qualitative feedback to understand people's attitudes toward your city or department. Even a small focus group, if well-directed, can give you actionable data to drive a difference-making design.
El Segundo Economic Development
In El Segundo, Calif., the Economic Development organization wants to encourage business growth.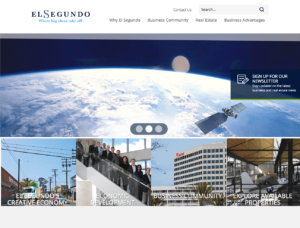 Behind the Design
Tagline 'Where Big Ideas Take Off' reinforced by strong images.
Navigation prioritizes a user perspective (Why El Segundo?) to connect visitors with proof.
Insight
Stock photos are nearly always a second-choice to great original photography. Nearly always. The hero image on this website is stock, but stands out and serves its purpose dutifully.
City of San Jose
The City of San Jose Economic Development in California wanted to attract economic development by highlighting San Jose as a desirable place to start a business.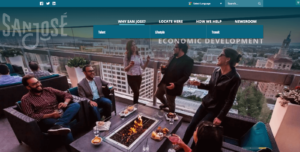 Behind the Design
San Jose differentiators (talent, lifestyle, transit) are clear and reinforced by design and images.
A bold design positions San Jose as innovative, diverse, and ever evolving.
By focusing only on the major tasks that users want to complete, the designers were able to keep the experience clean, clear, and approachable.
Insight
San Jose is proud of its diversity. By offering their website in a variety of languages (see top navigation), they make their website as welcoming as the city itself.
Brazoria County Clerk
With their website, Brazoria County Clerk wanted an above and beyond website to highlight the above and beyond service they deliver to the community.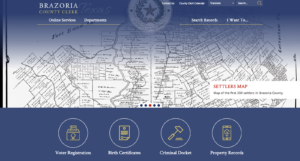 Behind the Design
Lets visitors search for information and services through a modern design that's professional, stately, and confident.
Stability and trustworthiness communicated via the serif typeface.
Images of historical documents throughout provide a unique sense of history.
Insight
Everything in a website design speaks — typography, images, colors. All these elements should combine to reinforce your brand.
Government Website Designs for Stronger Community Engagement
When you connect websites to digital communications, you can strengthen connections between government and the citizens you serve. Follow the lead of these websites if you want to:
Improve results of your programs.
Drive relevant traffic to your website.
Increase the amount of residents opting in to your messages.
El Segundo Hospitality & Tourism
With their website, El Segundo Hospitality & Tourism positions the friendly community as a great place to spend time — from day trippers to young professionals to families.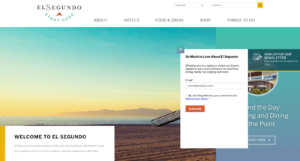 Behind the Design
The website design highlights key destinations & attractions.
A govDelivery website overlay captures email subscribers who actively want updates on events.
El Segundo sends emails to subscribers to give them reasons to return again and again.
Insight
Don't let your audience slip away! Give them a chance to opt-in to your communications. A homepage overlay quickly builds your audience for a newsletter.
Town of Silverthorne
Nestled among mountains, the Town of Silverthorne, Colo., is a popular destination to live, work, and play. Their website offers an engaging destination for visitors and residents alike.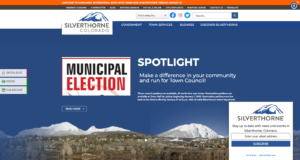 Behind the Design
From public office announcements to social media links, the website actively offers residents engagement opportunities.
The design features easily updated content carousels, which keep the experience fresh and engaging.
The website overlay, powered by govDelivery, captures subscribers interested in updates from their town.
Insight
The homepage content on this website changes constantly. It highlights all the exciting opportunities in the city, while giving residents and visitors reason to check back.
City of Merced
With their website, the City of Merced, Arizona, empowers their community by offering many opportunities to stay informed, take action, and make a difference.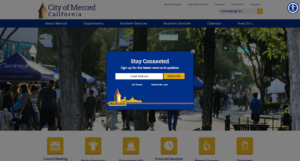 Behind the Design
Civic engagement opportunities — whether public meetings, commissions, and more — have high visibility.
The website overlay, powered by govDelivery, immediately captures email subscribers.
The website & email directly integrates with govMeetings, their agenda management solution.
Insight
Email subscription overlays can appear right away or when a visitor is leaving the page. Test it to see what works best for your community.
Government Website Designs That Meet Unique Goals
Sometimes you need a website or microsite to serve a unique goal. From custom websites for emergency response to municipal airports to zoos, here are some standout examples.
Dallas Love Field Airport
Dallas Love Field Airport, a municipal airport in Dallas, Texas, wants their guests to feel they can move through their website as easily as their airport.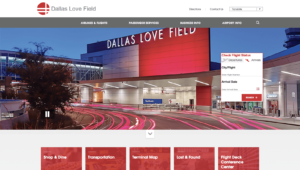 Behind the Design
The main navigation moves down with the user as they scrolls for easy access.
Check Flight Status box contrasts against image, drawing attention to a popular function.
Most requested services display as large icons in same color as other calls to action on the same page.
TSA Security and Parking information displays on home page so users can plan ahead.
Insight
Airports can be frustrating. Dallas Love Field Airport removes that fear by making airport navigation as easy as possible for visitors. They take what is most important to their users and put it first.
San Diego LAFCO
The San Diego Local Agency Formation Commission illuminate the relationship between government services and the community's needs.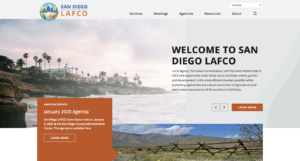 Behind the Design
Orange Announcement box breaks into the main image, encouraging reader to scroll down and keep reading
The News items area facilitates user navigation by pairing news items with imagery in bold colors. As a user hovers on a story, the boxes pop out.
The upcoming meetings section draws a connection between the schedule and videos of past meetings, which the user can play without leaving the main page.
Take Me There
Insight
By alternating sections of bold and clean backgrounds, LAFCO's website doesn't overwhelm the user. It uses small techniques that facilitate readability and navigation.
Montgomery Zoo
The website for Montgomery Zoo in Montgomery, Alabama, is designed to attract visitors, reduce phone calls, and showcase news.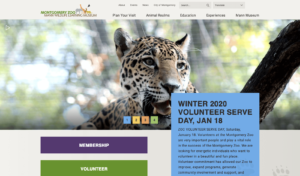 Behind the Design
Home page feature vibrant spotlight for important information.
Strong focus on content, which is easy to read against high contrast backgrounds.
Secondary navigation provides quick links and information, such as a weather forecast.
Insight
Montgomery Zoo makes navigation accessible, even at the bottom of the page, with a sticky menu bar.
Hawaii County, Hawaii
Kilauea Volcano has been continuously erupting for decades. In 2018, an eruption wiped out more than 700 homes on the Big Island. With their specialty site, Hawaii County provides timely information to residents, media, and other stakeholders.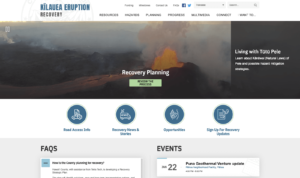 Behind the Design
A wire frame streamlines information and prioritizes content.
Excludes heavy animations and anything that bogs down site speed.
Focuses on user's needs and experience.
Different size fonts create an hierarchy that is easy to skim.
Insight
By keeping the site simple, clean, and easy to navigate, users will not be distracted in their search for important information.
Is Your Website Meeting Its Goals?
Get a FREE consultation from Granicus website experts to learn more. Get free consultation >>