Back To Blog
Getting More Shelter Animals Adopted with Modern Digital Government
National Adopt a Shelter Pet Day is April 30. This day honors our furry, four-legged friends by raising awareness for the thousands of pets that are waiting to be adopted from shelters around the country.
While there is no shortage of adorable and deserving animals that need homes, according to the American Society for the Prevention of Cruelty to Animals (ASPCA), the rate of shelter adoptions has actually been on the rise for the past several years. This indicates not only a growing trend toward pet adoption, but also an increasing need for information and resources about the adoption process.
Often, soon-to-be pet parents turn online for this type of information – from locating their nearest animal shelter to searching for available pets. And their local city or county website is one of the first places they look. Because of this, it's imperative for agency websites to feature relevant pet adoption information to meet citizens' digital needs, especially if website data shows that it's a top task among their users. While it may not call for a dedicated subsite of its own in every case, at the very least, agencies should consider having a dedicated webpage for animal services and adoption. Additionally, information should be quick and easy to find from the homepage menu or website search.
For some inspiration, and to help celebrate National Adopt a Shelter Pet Day, here are a couple examples of how Granicus clients have successfully showcased pet adoption on their agency websites.
City of Hurst, Texas
When the City of Hurst, Texas revamped their website in 2017, they looked to Granicus' UX experts for a data-driven design approach to better meet their community's evolving needs. When analytics revealed pet adoption as a top interest, Hurst decided to create a dedicated webpage to address this topic.
From the homepage menu, citizens can quickly navigate to the Hurst Animal Services webpage which provides a wealth of information and resources related to pet adoption and even includes pictures and bios of pets currently available for adoption and fostering. Additionally, the page offers lost and found pet forms, the ability to donate to Hurst Animal Services, information on local animal ordinances and more.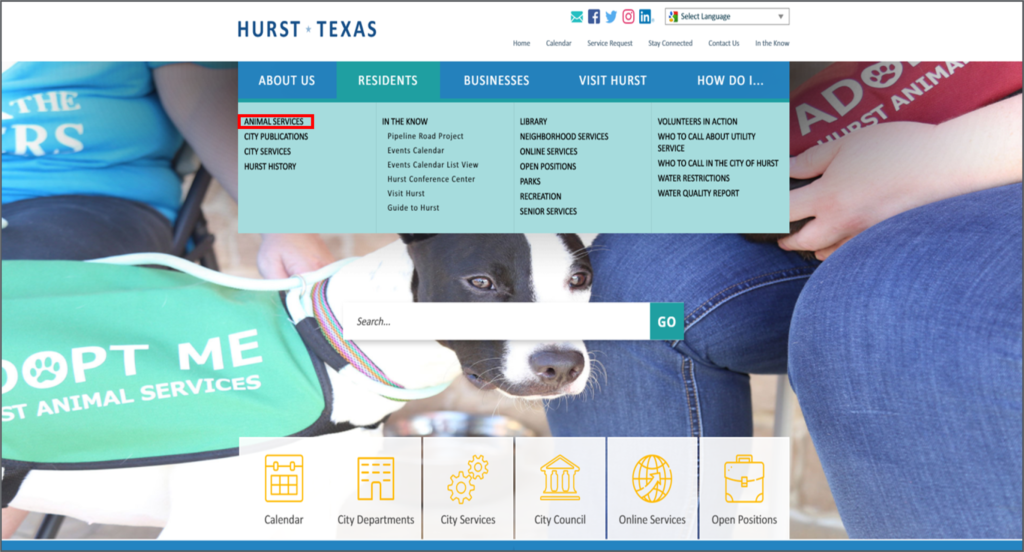 To provide citizens with even more ways to find information about pet adoption, Hurst leveraged govDelivery to create a dedicated Animal Services topic, which allows users to sign-up to receive email notifications when new content is posted to this particular webpage. In less than a year, they built their Animal Services subscription list to more than 15,000; not to mention more than 3,800 followers on the Hurst Animal Shelter Facebook page – illustrating the power of multi-channel digital communications to engage citizens – a trend we expect will continue to grow over the next several years.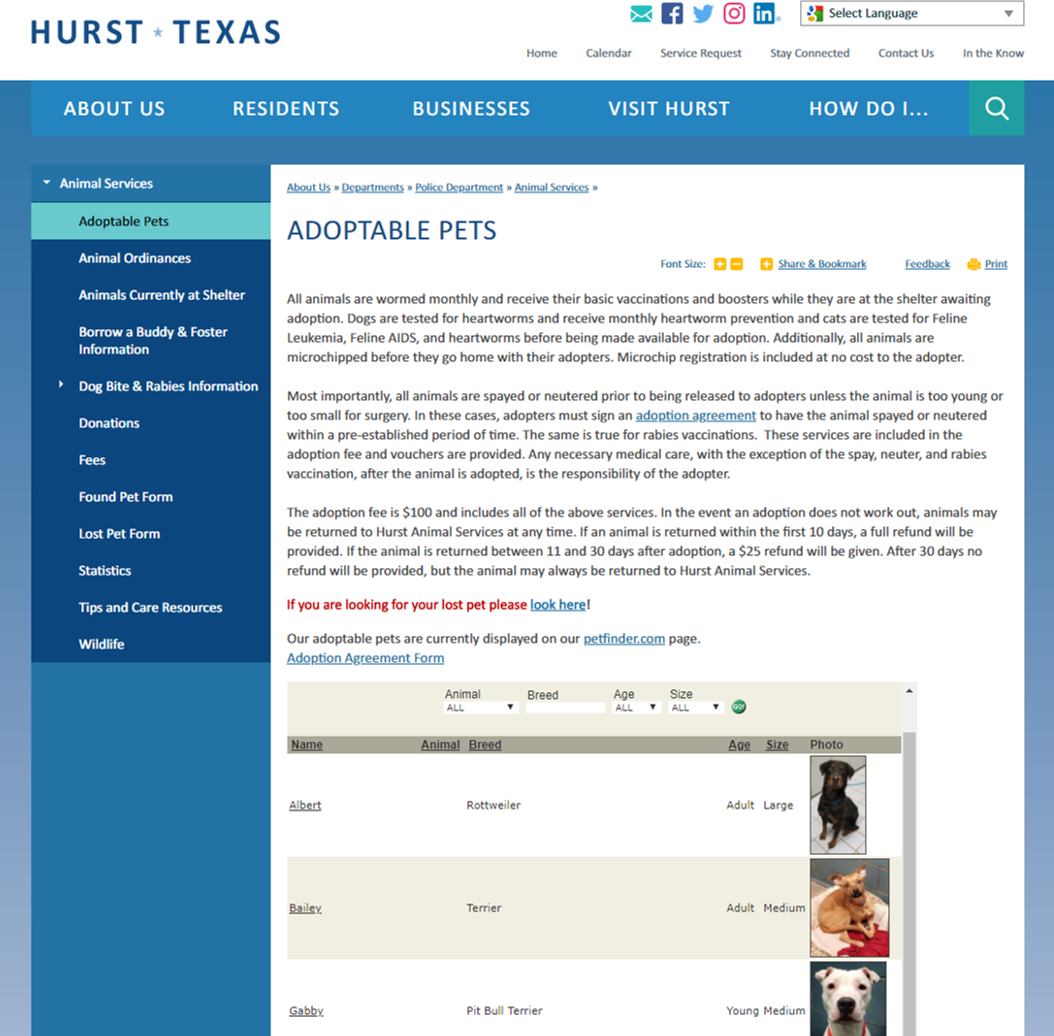 "Based on the web analytics, we knew pet adoption was important to our community. Working with Granicus we were able to design our website to feature Animal Services and supplement this content with email notifications and social media to really amplify engagement. We couldn't be happier with how the community has responded," said Shelly Klein, Customer Service Technologies Administrator at the City of Hurst, Texas.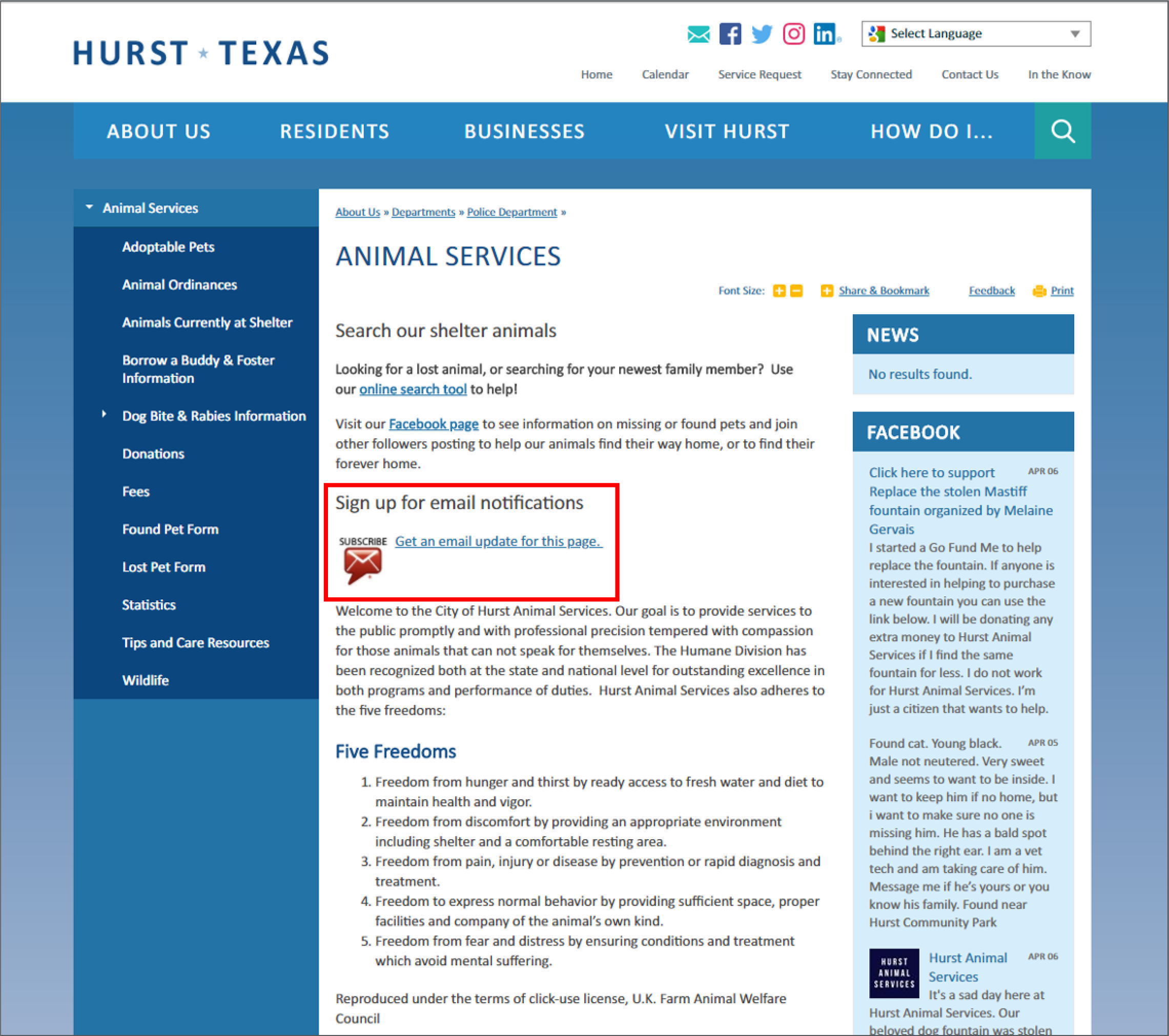 Want to know more about how Hurst leveraged the power of Granicus' website and email notification solutions? Check out the story of how they helped drive citizen donations for Hurricane Harvey victims.
City of Amarillo, Texas – Animal Management & Welfare
While many cities and counties feature pet adoption information within the agency website, in some instances they may opt to create a separate subsite to best serve their constituents. This is usually the case if the animal services department has specialized branding or website functionality needs, or if they prefer to manage their content independently from the larger agency website.
This was the case with the City of Amarillo who worked with Granicus to create a dedicated subsite for Animal Management & Welfare. Launched in 2017, the subsite features everything from adoption and pet wellness resources to a unique animal lost and found search tool, pet care tips, and links to animal rescue and adoption groups.
Though aligned with the overall look and feel of the City of Amarillo website, the Animal Management & Welfare subsite offers exclusive features, content, and functionality that cater specifically to its unique audience of pet parents and advocates.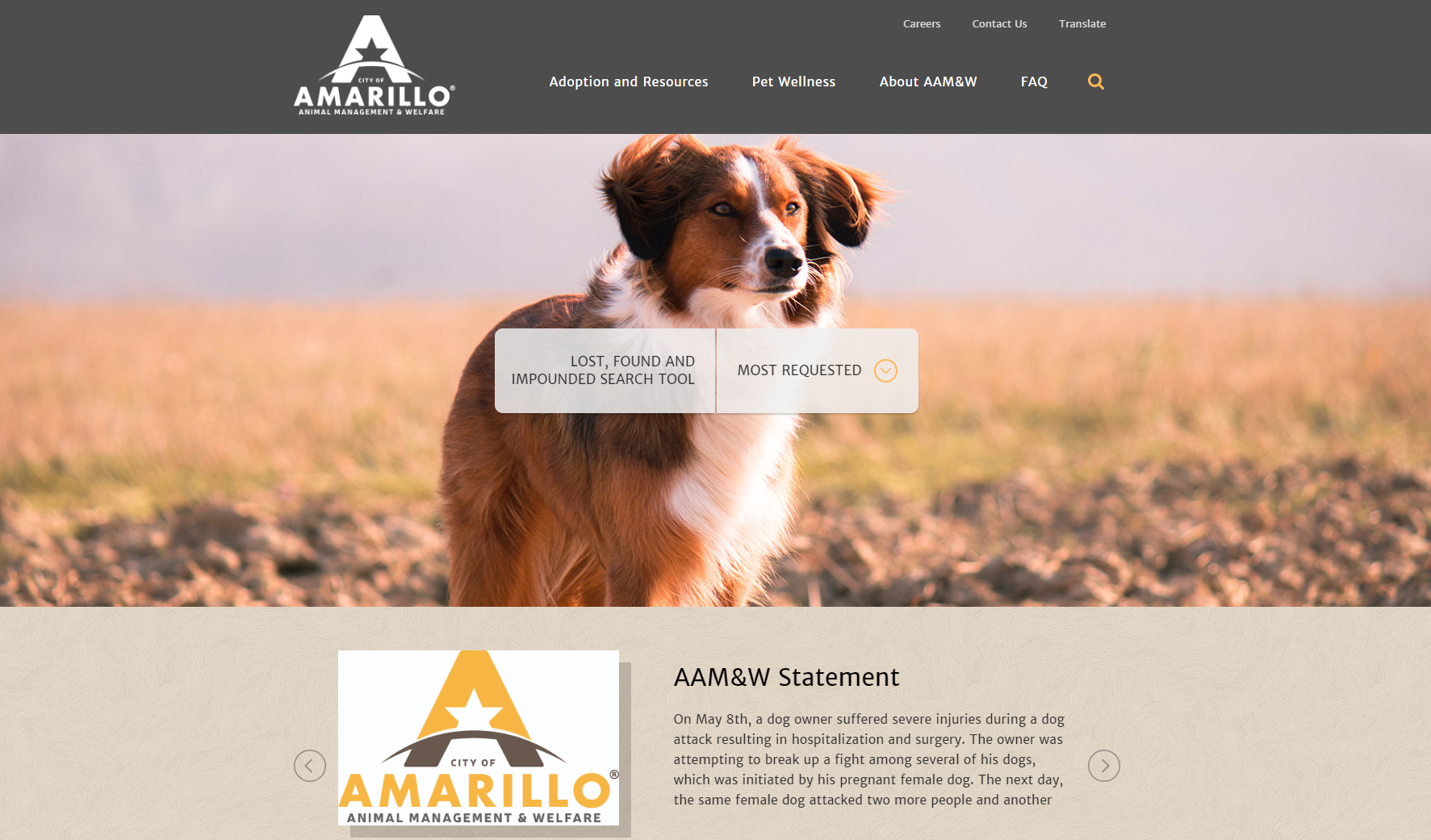 While animal shelters are doing their part to make the pet adoption process easier and more streamlined than ever, Granicus is proud to contribute to the cause through our work with local government agencies to make pet adoption information easier to find and access on their websites.
To learn more about our data-driven approach to website design and to see additional client success stories, visit the govAccess page, or get in touch with us today!